Product Name: Portable Infrared remote control home health care oxygen concentrator
Parameter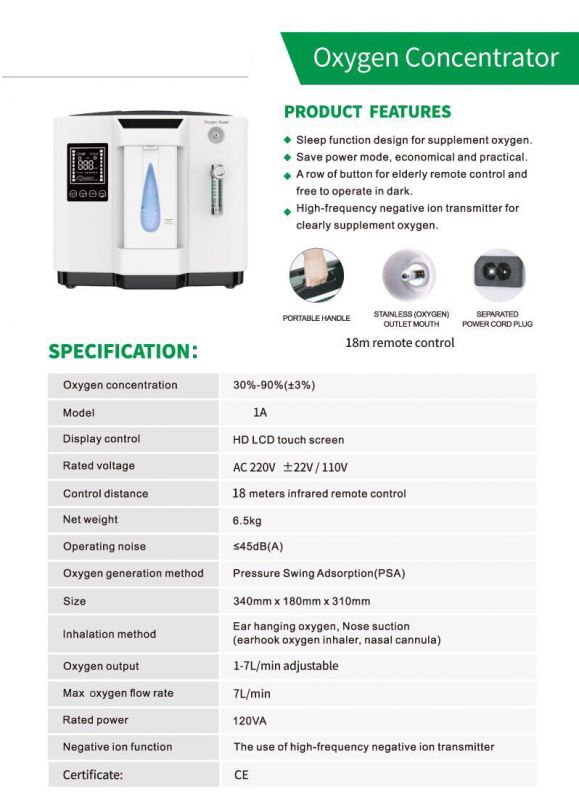 Features:
Oxygen purity is an adjustable 30% to 90% depending on airflow (measured in liters per minute LPM): 1 LPM at 90%, 2 LPM at 75%, 3 LPM at 65%, 4 LPM at 50%, 5 LPM at 40%, and 6 LPM at 30%
Noise is at a quiet 45db
Working time of 24/7
Timer function of a minimum of 15 minutes to a maximum of 3 hours. It is on by default at 3 hours
Warranty of 1 year free replacement and repair in case of quality problems
It is in visuals and accessories they mostly differ.
High Light
It Provides a continuous airflow of 1 to 6 Liters per minute. The higher the litre per minute (LPM) rate, the lower the O2 purity. The machine has to treat more air to deliver higher purity.
It has a handle for carrying and, at a weight of 13.3 lbs (~6 kg) it is light enough to easily handle around in one hand.
Theres an oxygen indicator and tap to control the air flow and a touch LCD display for all the vital information and functions.
It comes in a black and white durable hard plastic case.